You are here
Back to top
Hello Brain?: A Book about Talking to Your Brain (Paperback)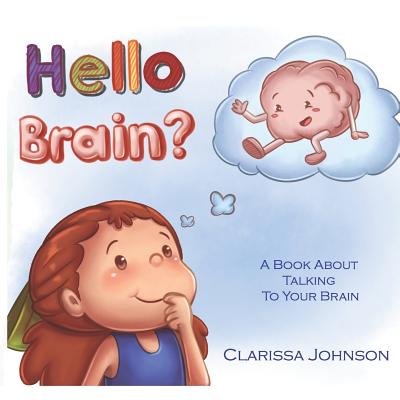 $14.98
Usually Ships in 1-5 Days
Description
---
"Your brain is the most amazing thing, it listens to what you say ..."
Your children will use the positive self talk in this book to be able to better handle any situation. Positive self talk and a Growth Mindset are incredibly powerful tools for lifelong learning.
This delightful new children's book brings Growth Mindset language into your child's world through 6 beautifully illustrated stories.
Use your amazon purchase number to get access to FREE video reading from the book. Just go here and enter your number https: //www.hellobrain.com.au/p/hello-brain-book
The concept of a Growth and Fixed Mindset was developed by psychologist Prof Carol Dweck and popularized in her book, Mindset: The New Psychology of Success. "Hello Brain?" shows, teachers, parents and children what both of these mindsets look, feel and sound like in common situations that happen every day.
The first day at school - new experiences - being nervous
Frustration when learning something new - taking risks
Being aware of and choosing behaviours
Understanding that emotions can be controlled
The power of the words we use
Uncertainty and anxiety
Children will learn that by "talking to their brain" they can do many more things than they thought were possible in the beginning.
"Hello Brain?" is intended to be read to children by parents and teachers to stimulate discussion about the language to use to support and empower their children. By using and modelling the language demonstrated in "Hello Brain?" you can reinforce a positive growth mindset that will change the way your child thinks and responds to challenges ... it may also change how you think : )
Book Features
Appropriate for preschool to ages 6-8
6 Social Stories - Social stories resonate with all children including children on the autistic spectrum
Each story is brought to life with a beautiful illustration
Real-world examples of Growth Mindset language that you and your child can use immediately
How to use this book
Parents - Read with your children and then discuss each story and use the language
Teachers - Use in the Classroom and because I know how busy you are I have 12 months of growth mindset lessons and resources also available
Go to hellobrain.com.au for teaching resources and my Growth Mindset blog.
I have been teaching in Primary schools for more than 20 years. In this time I became intensely aware of the difference that growth mindset language can make to children's learning.
I have seen time and again the difference a few simple phrases can make to a child's resilience, ability to learn and overall happiness. The joy of seeing this change is something I want to share with all teachers and parents.
The daily use of Growth Mindset language is one of the most powerful teaching tools I have ever used so I know this will work for you too.
If you buy this book, firstly thank you And secondly, if you see improvements in your children's lives it would mean the world to me if you would share your stories via an Amazon review or directly with me via my Instagram or facebook Hellobrain pages.
Please reach out to me as I would love to hear from you.
Thank-you
Clarissa Johnson