You are here
Back to top
STEAM Play & Learn: 20 fun step-by-step preschool projects about science, technology, engineering, arts, and math! (Paperback)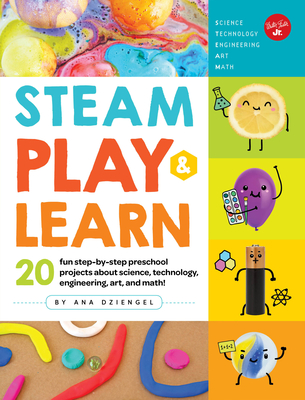 $14.95
Usually Ships in 1-5 Days
Description
---
With the simple instructions and large, full-color photos in STEAM Play & Learn, preschoolers will love tackling the 20 fun, easy-to-follow step-by-step projects as they learn about science, technology, engineering, arts, and math.
 
The acronym STEAM stands for Science, Technology, Engineering, Art, and Math. At the preschool level, this doesn't mean trying to teach your kids robotics and engineering, but rather presenting them with open-ended projects that allow them to problem-solve, make mistakes, get creative, and most of all, have fun.
 
While most preschool-age children are not yet reading, STEAM Play & Learn is meant to be child-driven. The images, illustrations, and projects are meant to appeal to kids of their age and abilities. Let them be the guide as you explore the projects in this book. Topics include symmetry and how light bounces to create reflections with mirror mandalas, diffusion and capillary action with tie dye towels, structural framing and bracing with marshmallow structures, and electrical currents with salty circuits. Other projects include:
Color Mixing Lab
Frozen Goop
Sound Tubes
Citrus Volcanoes
Paper Bag Blocks
Egg Carton Geoboards
Pool Noodle Marble Run
Potions Lab
Balance Scale
Spin Art Tops
Marble Mazes
Tinkering Set
Pattern Projectors
Newton's Cradle
Art Machine
Lime Light
The projects in this book fall into three difficulty levels: Easy projects require parents and teachers to do nothing more than set out the materials and offer a challenge to children. A few of the easy projects will need parents to assemble components in advance of presenting them to kids. Medium projects will require some adult assistance while the project is underway. Children should be able to complete some of the tasks while stopping periodically for an adult to assist in a step. Difficult projects are meant to be adult-led. This is an opportunity for parents to encourage their child to offer problem-solving ideas along the way, giving children a chance to help and make suggestions.

The cross-subject approach to learning in STEAM Play & Learn will prepare young children for the subjects they will soon learn in elementary school and beyond. These 20 projects will provide hours of fun education for both kids and parents!
About the Author
---
Ana Dziengel is an architect, award-winning furniture designer, and professional blogger. She began blogging at Babble Dabble Do in 2012 and found her dream career as an expert crafter, amateur scientist, and impromptu art teacher to her three young children. Ana wants her blog to help other families connect through creativity and feel comfortable making and tinkering. She has been a regular contributor to PBS Parents Crafts for Kids and Fisher Price, and has been featured in FamilyFun magazine. 
Praise For…
---
This cross-subject approach to learning will prepare young children for the subjects they will soon learn in elementary school and beyond. Each project features simple instructions and large, full-color photos, to make each one enjoyable and fun for both kids and parents.
- Wellington City Libraries' Kids Blog
This book is like a preschooler's playground on the printed page.
- CBS Los Angeles
This beautiful book from the always amazing Babble Dabble Do is a wonderful introduction to the world of STEAM with 20 colourful projects sure to appeal to children and adults alike.
- Science Sparks
The projects are fun and easy to follow and it's a great start to introducing STEAM into your child's life. [...] This is the perfect book for parents, teachers or librarians, and I feel that it is a must have title in your library. It's super affordable and will allow you endless opportunities to spend time with your child.
- Two Classy Chics
The book written for children to look through and is large and colorful and irresistible for preschoolers. You won't be able to help drooling over the gorgeous photos and fun projects either!
- Coffee Cups and Crayons
Super fun projects in a beautiful book! This a must have for every parent this summer and would make a perfect gift too.
- Red Ted Art, list of Best Kids Activities Books for Summer
One of the best STEAM activity books I've seen for young children.
- Kids' Book Review
One of my favorite parts of this book is that it is simply broken down into three sections: easy projects (put out the materials and let kids work), medium projects (some adult assistance will be needed), and difficult projects (adult-led). As a parent and a teacher, I love that I can quickly choose what will work best for me and my kiddos.
- iHeartLiteracy
I am blown away with how COOL this book is! It's colorful, easy to read, has amazing STEAM ideas, and is affordable! If you're looking for some genius STEAM ideas, this book is for you!
- Teaching Mama
Bright and colorful photos really showcase her super fun STEAM ideas. The book's activities are targeted towards preschoolers, but both of my boys (who aren't quite in that age range) really loved doing the marble maze activity.
- Pink Stripey Socks
Ana's passion is finding fun ways for kids to learn while they are playing, and she has spent years on the subject with countless hours of camps and workshops. She knows what engages young minds, and this book proves it.
- Art Projects for Kids, named as "Best New STEAM Book"
[F]un activities to do with your little learners that will teach them all about the STEAM concepts. They'll be so busy having fun with activities like building a marble maze, they won't even realize they're learning.
- Red Tricycle
When a four year old can't put it down, you know you have a winner!  
- Make It Your Own
What a fun book this is for hands-on activities that kids will WANT to do while learning and playing. 
- OT Toolbox
This has to be one of the best STEAM books I have seen for children and I like that the experiments are well suited to the preschool age group.  While the children are learning as they do the experiments in the book, it certainly won't feel structured or 'school' like as it is all about having fun and being creative.  
- Little Big Reads