You are here
Back to top
Tales from a Forager's Kitchen: The Ultimate Field Guide to Evoke Curiosity and Wonderment with More Than 80 Recipes and Foraging Tips (Hardcover)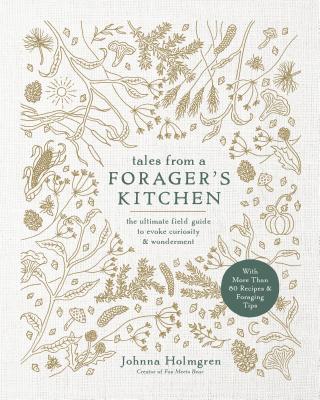 Description
---
Connect with the earth and explore the outdoors with this enchanting cookbook from Fox Meets Bear blogger Johnna Holmgren.

We forget that there is magic in food. We've lost an appreciation for how the ingredients we use came to be, how they grew, and where they werec ultivated. In short, we've lost an appreciation for the earth. But Johnna Holmgren is here to restore that appreciation and help us create an adventurous spirit both in and out of the kitchen. She's someone who goes straight to the woods behind her home for mushrooms and syrup and heads to her garden for tomatoes and fruits. Her cookbook is more than just a book—it's an escape to another realm, a retreat into nature, and a taste of the life she lives.

It brings the woods to a city loft and to the aisles of surburban supermarkets, with more than 80 unique recipes like floraled elderflower quiche, wild blueberry bee pollen scones, garlic scrape wreathe pasta, and a frothed reishi mushroom latte. Intertwined with photographs of foraging experiments, lush forest scenes, and whimsical illustrations, it wil linspire you to form a bond with the earth and the world around you.
About the Author
---
Johnna Holmgren is the blogger behind Fox Meets Bear and runs the chalk illustration and design company Bear Fox Chalk with her husband Max Holmgren. She lives in the woods of Minnesota with her husband and daughters Luella Beane and Minoux Wilder.