You are here
Back to top
Tales from the New York Rangers Locker Room: A Collection of the Greatest Rangers Stories Ever Told (Tales from the Team) (Hardcover)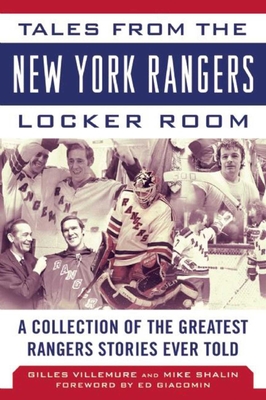 $22.99
Usually Ships in 1-5 Days
Description
---
In the late 1960s the New York Rangers transformed from NHL also-rans to Stanley Cup contenders. Gilles Villemure was part of that transformation. The little goaltender had a long wait to make it to the National Hockey League, which had only six teams until after the middle of the decade. Eventually Villemure joined Eddie Giacomin to give the Rangers a strong 1-2 goaltending tandem. The Vezina Trophy–winning twosome was a fixture for the Rangers, threatening to end the franchise's long Stanley Cup drought, only to come up short. Now, forty years later, Villemure writes about his days with the Rangers in the newly updated Tales from the Rangers Locker Room. Villemure tells stories about old pals like Rod Gilbert, Vic Hadfield, Brad Park, Jean Ratelle—and his boss, Emile "The Cat" Francis.

The Rangers finally won that Stanley Cup in 1994, ending over fifty years of frustration, but it was those Francis-led teams—the ones with Villemure and Giacomin in the goal—that brought New York's Blueshirts, Madison Square Garden's finest, to the top of the NHL. It is their influence that has continued to propel the Rangers forward even today, with a conference championship win in 2014 and the President's Trophy in 2015. Fans young and old will want to hear Villemure's stories come to life.

Skyhorse Publishing, as well as our Sports Publishing imprint, are proud to publish a broad range of books for readers interested in sports—books about baseball, pro football, college football, pro and college basketball, hockey, or soccer, we have a book about your sport or your team.

Whether you are a New York Yankees fan or hail from Red Sox nation; whether you are a die-hard Green Bay Packers or Dallas Cowboys fan; whether you root for the Kentucky Wildcats, Louisville Cardinals, UCLA Bruins, or Kansas Jayhawks; whether you route for the Boston Bruins, Toronto Maple Leafs, Montreal Canadiens, or Los Angeles Kings; we have a book for you. While not every title we publish becomes a New York Times bestseller or a national bestseller, we are committed to publishing books on subjects that are sometimes overlooked by other publishers and to authors whose work might not otherwise find a home.
About the Author
---
Mike Shalin is a veteran of over four decades in sports journalism, working for the Boston Herald and the New York Post. He spent much of his early career covering hockey before moving on to baseball and college sports. He is now a freelancer in the Boston area and has spent the last fifteen years as an official scorer at Fenway Park. Shalin is the author of Donnie Baseball: The Definitive Biography of Don Mattingly, as well as several books for young readers. He is also the coauthor of Out by a Step: The 100 Best Players Not in the Baseball Hall of Fame and Tales from the New York Rangers Locker Room.