You are here
Back to top
Ripley's Fun Facts & Silly Stories: THE BIG ONE! (Hardcover)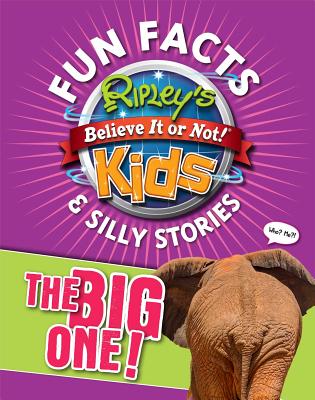 Description
---
A brand new fun and amazing title, Fun Facts & Silly Stories THE BIG ONE! is packed full of the wacky stories and unbelievable facts that readers loved with the first titles, but now in a larger, more eye catching format.

The 'Big Book' format is instantly appealing to young readers who will find the pages packed with a collection of NEW crazy stories, extraordinary facts, and amazing pictures similar to the ones that they loved in the original titles. Both educational and entertaining, this new size also makes THE BIG ONE! great for traveling. The durable hard cover and larger pages will make it easy kids of all ages to explore during car trips, read at the playground or take with them on an unbelievable adventure.
About the Author
---
Ripley's Believe It or Not! is globally renowned as the authority on the weird, the eccentric, and the amazing. Ripley's Believe It or Not! provides entertaining books for children of all ages which educates and informs them in a humorous style. The Ripley brand is known around the world as a trend-setting source of family-friendly fun and excitement! Every day the researchers at Ripley's are busy digging up the craziest true stories and the most unbelievable facts.