You are here
Back to top
Deep Woods, Wild Waters: A Memoir (Hardcover)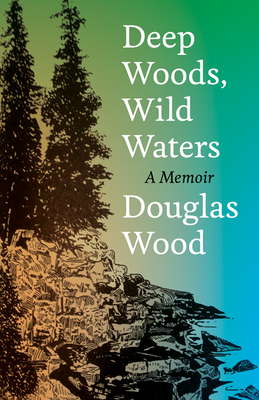 $22.95
Usually Ships in 1-5 Days
Description
---
Wait, young Douglas's grandfather says as the bobber twitches on the surface of Little Lake. Be patient. And so begins an encounter with the promise and wonder of nature that will last a lifetime. Deep Woods, Wild Waters traces the winding path that carried Douglas Wood from one wonder to the next, through a landscape of rocks, woods, and waters, with stops along the way for questions and reflections that link human nature to the larger mysteries of the natural world.
Like life itself, the author's way is not linear. One landmark leads back to a favorite campsite, another prompts him to consider the "gospel of rocks," another launches him into the wilderness beyond the stars—a contemplation of time and space and humanity's place in all of it. The creator of thirty-four books, including the classic Old Turtle, and an expert woodsman and wilderness canoe guide, Wood brings all his storytelling and bushwhacking skills to bear as he takes us hurtling down wild rapids, crossing stormy lakes, or simply navigating the treacherous currents and twisty trails of everyday life.
 A warm, generous, and knowing guide, Wood maps a journey that, as he says, "anyone can take, through a landscape anyone can know." Turning the pages, hiking the portages, running the rapids, or scanning the wild country from high promontory, he invites us to say, in a soul-satisfying moment of recognition, "I know that place." 
About the Author
---
Douglas Wood's first book, Old Turtle, was hailed as an "instant classic." His other works, including the New York Times bestseller Grandad's Prayers of the Earth and his humorous Can't Do series, have earned such honors as the American Booksellers Book of the Year Award, the Christopher Medal, Parents' Choice Award, International Reading Association Book of the Year Award, Smithsonian Notable Books for Children Award, Storytelling World Award, and the Lifetime Achievement Award from the Minnesota Association for Environmental Education. He has read his books at the White House and New York's Lincoln Center. He lives with his family in a log cabin on the Mississippi River.
Praise For…
---
"Inviting as a dip in a cool northern lake on a sizzling summer day, Deep Woods, Wild Waters is a true gift. Douglas Wood's memoir conveys the haunting beauty of the Northwoods with a naturalist's eye. He recounts his life as a guide, musician, and writer—boy, father, and grandfather—and beckons readers to step away from modern, fast-paced lives to slow down, breathe, and discover the cosmos in a grain of sand."—Mary Casanova, author of Ice-Out
"I felt I was traveling right alongside Douglas Wood while reading his evocative life stories. The depth of his emotional honesty is powerful and gives us a peek into why he creates such fine work. This book is a treasure."—Jim Brandenburg, photographer and author
"In Deep Woods, Wild Waters, Douglas Wood has written more than a beautiful memoir. With the eyes of an artist, the soul of a poet, and the easygoing humor of a backwoods guide, he takes us on a journey through our shared landscape of mind and spirit, pointing out some of the major landmarks and encouraging us to go out and explore."—David Backes, author of A Wilderness Within: The Life of Sigurd F. Olson
"Deep Woods, Wild Waters is the most authentic and rich of Douglas Wood's writings yet. It is as fluid as the water he paddles, as grand as the endless skyline he sees before him, and as poetic as the sound of the breeze in the pines and the symphony of the birds of a morning. Doug finds himself in this book. His images and stories urge you to find yourself in the only place it can truly be done—in nature. With Deep Woods, Wild Waters, Doug has, thus, risen to the pantheon of the great nature writers."—Don Shelby, explorer and veteran journalist 
"Douglas Wood has become much more than an outdoor writer, he has become an icon of the North Woods, and through his travels, paddles, books, and lectures he has moved thousands of people. He continues that tradition in this book. Like Sigurd Olson, he takes the reader along, he contemplates and shares, and in the end the knowledge belongs to the reader, and the desire to paddle, explore, and be outside is the true gift—the inspiration—of his writing."—Mike Link, author and former Director of the Audubon Center of the North Woods
"While most of us are left speechless by gilded ripples on a moonswept lake, the mesmerizing call of the loon, or the crimson glow of embers, Douglas Wood has the words and weaves them well. He puts in poetic prose what we've all wanted to articulate during those magical moments of epiphany in the natural world. Doug refers to his as a 'lucky life.' We all share in that great fortune through this fine book. Many of us will resonate with Doug's life reflections. Like him, my family heeded the siren call of the wilderness following an urban childhood graced by elders who engaged us with the natural world. And while that has meant a career of non-stop adventuring for me, Doug's treks have been punctuated by reflective pauses that have now borne three dozen personally insightful books. This collection of his 'landmarks' covers a seasoned swath of childhood memories, northwoods tales, parenting anecdotes, and philosophical musings he's gained around countless campfires."—Paul Schurke, polar explorer, author, and environmental educator
"Douglas Wood's memoir is a classic. It's a book readers will want to return to again and again. There is a lovely flow and order to it all, but a reader can start at the beginning, the middle, or the end—the essays are that good. In fact, 'The Stars of Sandfly' alone is worth the purchase of the book."—Larry Dolphin, former Director of the J.C. Hormel Nature Center
"This is a book meant to be read aloud – to be shared and enjoyed, like a campfire tale."—Great Lakes Echo
"Many people are touched deeply while discovering the forest, streams, lakes, wildlife and plants that inhabit our North Woods. Very few, though, can take you there through words. Douglas Wood, musician and author, is one of the few."—Lake Superior Magazine
"In Deep Woods, Wild Waters, Wood gathers a lifetime of aphorisms and lays them carefully like kindling to make sure that every anecdote sparks into epiphany."—Sierra Club
"Our state can certainly be proud to be home to this master musician and storyteller."—Union-Times